On Wednesday 10th August 2022 the new vaccination clinic opened in Camberley Town Centre. It is situated on Obelisk Way (if you are looking at Boots, turn left and it can be found on the right-hand side). The service will be starting very slowly to ensure everything works ok and they are expecting appointments to start in earnest in September. It appears that it will be offering both flu and Covid jabs and will be for both booked appointments and walk-ins. We have started to get both covid and flu vaccination appointments.
Sue has been for a walk round to see how this will operate for us with our clients and it will work as follows:-
Drive along the A30 and turn into Park Street (where the Premier Inn is on the corner).
Take the first left into Service Yard 1
Once in the service yard, drive straight ahead until you can go no further. This is alongside the white building. Please see photo below.
If the client is able to walk, they will go through the gap by the hedge and walk down to the right where they will come to some double doors. Turn right and the vaccination centre can be found on the right-hand side.
For some of our clients who take a walker or need an arm, this distance may be too much or they will need someone to escort them. If this is the case, there will be mobility volunteers who, by calling this number 07526 971728, will come and help take the client to the centre for their appointment and bring them back to you.
You will be able to park here for the duration of the appointment by displaying your yellow hospital car parking badge and your Camberley Care volunteer on duty sign. Picture below. If you need either of these please let us know.
I have been told today that if a client is booked in for a covid booster they may well get their flu vaccination at the same time and vice versa, so some of the appointments may be slightly longer. The parking wardens and service yard security have been told about us parking there for a short time and I have been assured this will be ok. Please let me know if there are any issues.
---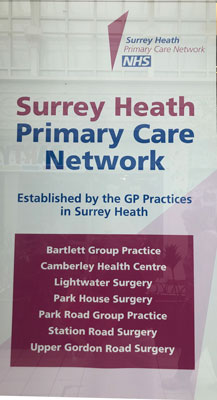 ---
Updated:- Sept 8, 2022